Don't Fall for COVID-19 Scams!
With so much panic and uncertainty in the news, the COVID-19 pandemic is a heyday for scammers. Don't let your business fall prey to scammer panic! With a few minutes of research and a commitment to double-checking, you can arm yourself—and your business—against potential coronavirus scams.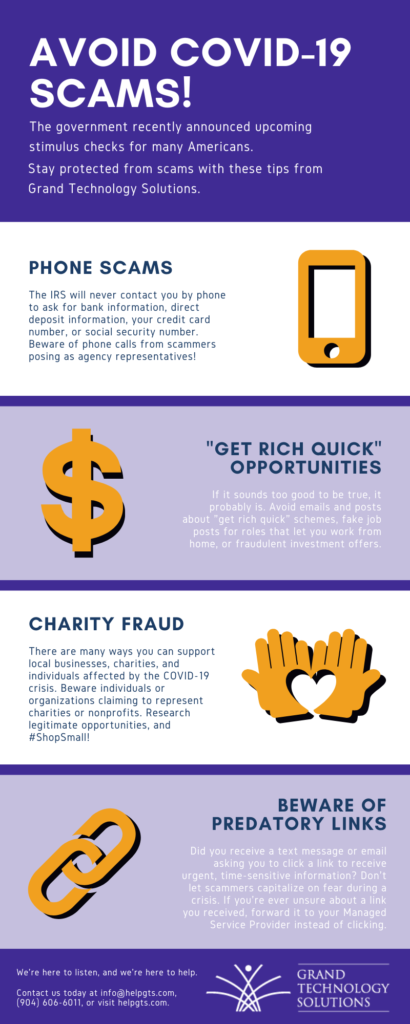 This week, we're taking a closer look at some of the most common scams circulating in the wake of coronavirus: emails or texts with phony links, fake phone calls, "get rich quick" schemes, and charity fraud.
The IRS called me saying they need my bank account info to deposit my stimulus check. Should I give it to them?
The IRS will NEVER request your social security number, credit card number, or bank account information by phone, email, or text message. If you've received a call or other message asking for this info, do not click any links, fill out any information, or make any payments. The IRS has already issued multiple warnings about potential scams related to stimulus checks—in fact, "stimulus check" isn't even the proper term!
For the most up-to-date information about stimulus payments, small business protection programs, and forgivable loans, visit the IRS's online coronavirus resource center.
A recruiter forwarded me a job listing that says I can make $2,000 a week for remote work!
Run! Okay, that was dramatic, but if a "get rich quick" scheme sounds too good to be true, it probably is. There are many legitimate offerings for virtual work, as companies turn to the Internet to get the job done, but there are plenty of scams, pyramid schemes, and multi-level marketing schemes that promise a lot of money up front and fail to deliver.
Beware of any "get rich quick" schemes that require you to pay any upfront money to get started, whether it's for a "verification process" or a "starter kit" of goods to sell. Do your research before applying to any job that sounds too good to be true, or investing in an incredible startup that's Guaranteed To Make You Millions!
One of my favorite charities cold-called me asking for support—should I donate?
If you have flexible income, donate when you can! But beware—the current atmosphere presents many opportunities for scammers to pose as charity representatives. Many nonprofits and charities are suffering right now, shouldering tons of extra costs when their resources are already stretched too thin. Because of this, we're seeing plenty of fundraising campaigns, calls for donations, and virtual food drives popping up all over the Internet. However, not all of these donation opportunities are legitimate.
If you have the funds to make a donation, it's definitely a good time to turn to charity—just be sure to do your research first. Make sure any emails you're receiving are coming from a verified return address that matches the foundation's email layout. If you're asked for a donation by phone, offer to make a donation online instead, and verify that you're using the organization's real, encrypted credit card processing system. When in doubt, call the foundation or charity directly with the phone number listed on their website (not whatever number has cold-called you). If it's an organization you've never heard of, look up its reviews and reputation online before opening your wallet.
I got an email or text message telling me I need to fix an urgent problem right now—what do I do?
In this time of uncertainty, it's easy for scammers to take advantage of people's panic by creating a false sense of urgency. For example, check out the email we received this morning from a scammer posing as a Microsoft representative. While this email doesn't mention COVID-19 directly, it's obvious that the scammer here is hoping we'll be too busy to double-check sources.
In the email, you'll see a subject line claiming our Office 365 subscriptions is about to expire (spoiler alert: it isn't) with a collection of phony links directing us to renew our subscription (or in other words, hand over our credit card information).
As we mention in the video, you can tell this email is a fake for a few reasons:
The subject line generates urgency without giving us any specifics about who we are or confirming our account information.
The return address and reply-to email are NOT from Microsoft.com, but some random domain "iTech Innovation."
When hovering over the links, you can see that the redirect path goes to a phony website, not the real Office 365 subscription site.
A few words, like "license" are misspelled.
When in doubt, throw it out.
 If you're not sure about the legitimacy of an offer, program, call, or email, just don't reply. Don't click any links, save any attachments, fill out any forms, or give away any information without doing your research first. If you're on the fence, give us a call at (904) 606-6011. We'll be happy to review that email, text message, or phone call and help you find the right path forward. Stay smart, stay protected, and stay informed!